Strolling through Heathrow airport to catch a flight last year, Hayden Smith passed a feedback terminal where he could rate his travel experience—in smiley faces, all the way down to a frown. "I asked myself, wouldn't it be amazing to have this type of happy-face system at work for employees?" says Smith, who works for a multinational manufacturing company with over 150,000 employees.
Surprisingly, Smith isn't in the human resources department. Rather, he's the manager of a large global team. As such, he has become increasingly attuned to all topics surrounding employee engagement and disengagement. "Disengaged employees are not willing to tap into their discretionary energy to solve problems," he says from his base in Montreal. "I believe that people are always at the heart of solutions for better processes or structure or products. Engaged people have so many more positive outcomes. We all know the Gallup statistics."
Let the numbers do the talking
An actively disengaged employee costs their organization $3,400 for every $10,000 of salary, or 34 percent
Smith is referring to the famous study from 2013, when Gallup found that a staggering 87 percent of employees worldwide were disengaged. And 25 percent of those were actively disengaged, in other words, company detractors. Gallup stated that an actively disengaged employee costs their organization $3,400 for every $10,000 of salary, or 34 percent. That means that a disgruntled or "checked out" person on staff making $60,000 a year costs their company $20,400 for that same year.
Updating that information in their 2017 State of the American Workplace Report, Gallup noted that 51 percent of employees were looking for a new job. "The old ways of running a workplace—annual reviews, forced rankings, outdated competencies—don't get the intended results," the report states. "Leaders must gain scientific insight into employees' evolving wants and needs and learn how to build an exceptional workplace."
A case study: LANDR
That's why Marjorie Desriac is spending her day lining up yoga classes and an on-site massage service for her 73 employees at LANDR Audio. LANDR is a cloud-based audio mastering service with an industrial-chic office in Mile End, one of the hippest neighborhoods in Montreal. Desriac, in her role as the company's Culture and People Partner, implemented Officevibe feedback technology to get ahead of employee disengagement issues that might arise during their rapid growth spurt. Staff can anonymously rate their work life across 10 metrics. "The stress metric went up a bit last week," she reports. "So, we're looking into a gym partnership, yoga and massage."
LANDR also offers employees free access to Dialogue, a virtual healthcare service. "Yes, these perks are great and everyone loves them, but giving employees feedback and recognition from management for a job well done—we see that's the important metric," says Desriac. "People also want to work on professional goals, make sure they have skills and training."
Indeed, the role of management is shifting to accommodate the new workplace. "We expect more from our jobs today," notes Julie Jeannotte, the engagement expert at Officevibe. "Our relationship with work has changed. Because we recognize what a huge portion of our life we spend at work, it's no longer okay to be unhappy. It's not just about putting bread on the table anymore. Consequently, the definition of a leader is changing. Now, it's more about coaching, helping employees attain goals."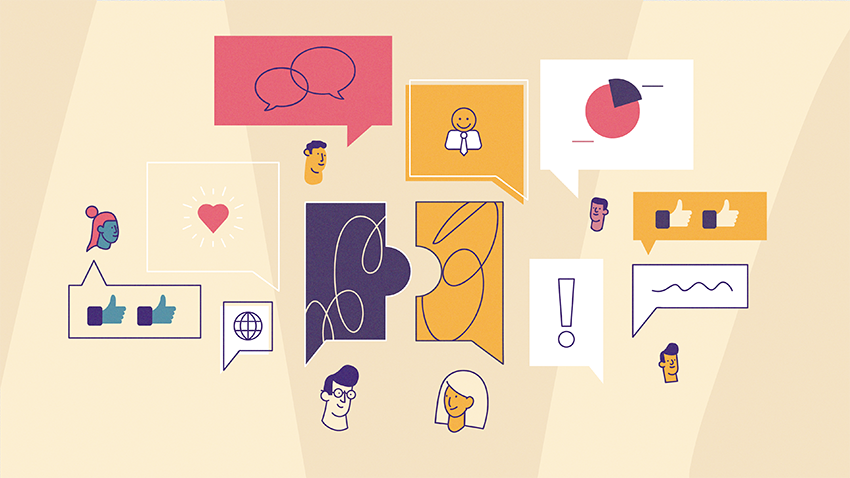 Companies could solve the $600 -billion employee engagement problem with improved empathy—better listening, more understanding and extra coaching
This new coaching style of leadership is an effective approach to tackling disengagement. Forbes magazine recently suggested companies could solve the $600 -billion employee engagement problem with improved empathy—better listening, more understanding and extra coaching. But the problem is persistent. A 2017 Harvard Business Review study proposes that companies can enhance their gains by thinking more long-term about solving disengagement.
"Organizations are spending hundreds of millions of dollars on employee engagement programs, yet their scores on engagement surveys remain abysmally low," writes the study's author, Jacob Morgan. "How is that possible? Because most initiatives amount to an adrenaline shot. When organizations make real gains, it's because they're thinking longer-term. They're going beyond what engagement scores are telling them to do in the moment and redesigning employee experience, creating a place where people want, not just need, to work each day."
The employee experience factor
This jives with new findings from Gallup. In November 2018, Gallup published a report that recommends companies shift their focus to employee experience—defined as the entirety of their emotional and physical journey at the company. According to the report's author, Jessica Buono, "Our research shows that the crucial factors that influence employee experience throughout the employee life cycle include an employee's manager, role, team, workspace and well-being. You no longer simply try to make onboarding fun, you create a deeper connection with your organization that affects employee retention, engagement, performance and development, and whether or not they will represent your brand in a positive light."
Companies that invest in employee experience outperform those that don't
Employee experience is linked to engagement/disengagement in a feedback loop: Employee experience affects the level of engagement/disengagement, and the level of engagement/disengagement influences employee experience. This answers the question of why it's imperative to heed these new findings and stretch HR resources to preempt disengagement, with its costly downside. As Jacob Morgan reported in his Harvard Business Review study, companies that invest in employee experience outperform those that don't.
All this explains why Hayden Smith is so keen to gather actionable feedback from his global team. "We've had fantastic results, but experience and engagement are moving targets," he notes. "You don't hit them once. You have to check back often and adjust as you go. I'm a firm believer that understanding how they work together will improve your bottom line.