In the era of social media, when the online sharing of our experiences and feelings about a product or service has become a daily routine, customer experience is a key brand differentiator. Sentiment analysis, also known as opinion mining, allows businesses to keep very close tabs on customer communication, so they can interpret their feedback and understand what customers want and need. From hospitality to finance & banking, this blog post analyzes how sentiment analysis tools improve customer experience in different industries.
Jump right into our article to learn about your industry:
1. Retail: Personalizing the e-commerce experience
In retail, the industry's embrace of digital avenues and big data has led to more personalized and customizable marketing strategies that make use of, for example, real-time recommendations for customers as they online shop and chatbots that support customers in their purchase decisions.
Sentiment analysis solutions put review data front and centre to obtain consumer insights – the kind of insights that directly enable businesses to accurately craft a customized e-commerce environment for customer engagement, conversion, and sales. Are retail brands ready for this transition today? The reviews are out there waiting for businesses to make a move towards stronger, sales-driving connections with their customers. Equipped with the ability to analyze reviews through an AI solution, brands can leverage each and every customer review today.
[2022 Report: How review data is changing the retail industry]
2. Hospitality: Online reputation management
Travel technology is booming as customers flock to the web to book their travel and accommodations. Travelers also typically conduct online research about their destination before deciding on their travel arrangements. According to two surveys of more than 2,000 American adults who identified as readers of online reviews of restaurants, hotels and various services, between 73% and 87% reported that reviews had a significant influence on their purchase.
In the midst of this digital revolution, the hospitality industry is all about online reputation management. Sentiment analysis tools enable hospitality brands to quickly analyze and understand large volumes of customer views expressed across various channels such as email, discussion forums, travel-review websites, website feedback forms and surveys.
Here's an example of how Keatext can be used to analyze customer sentiment: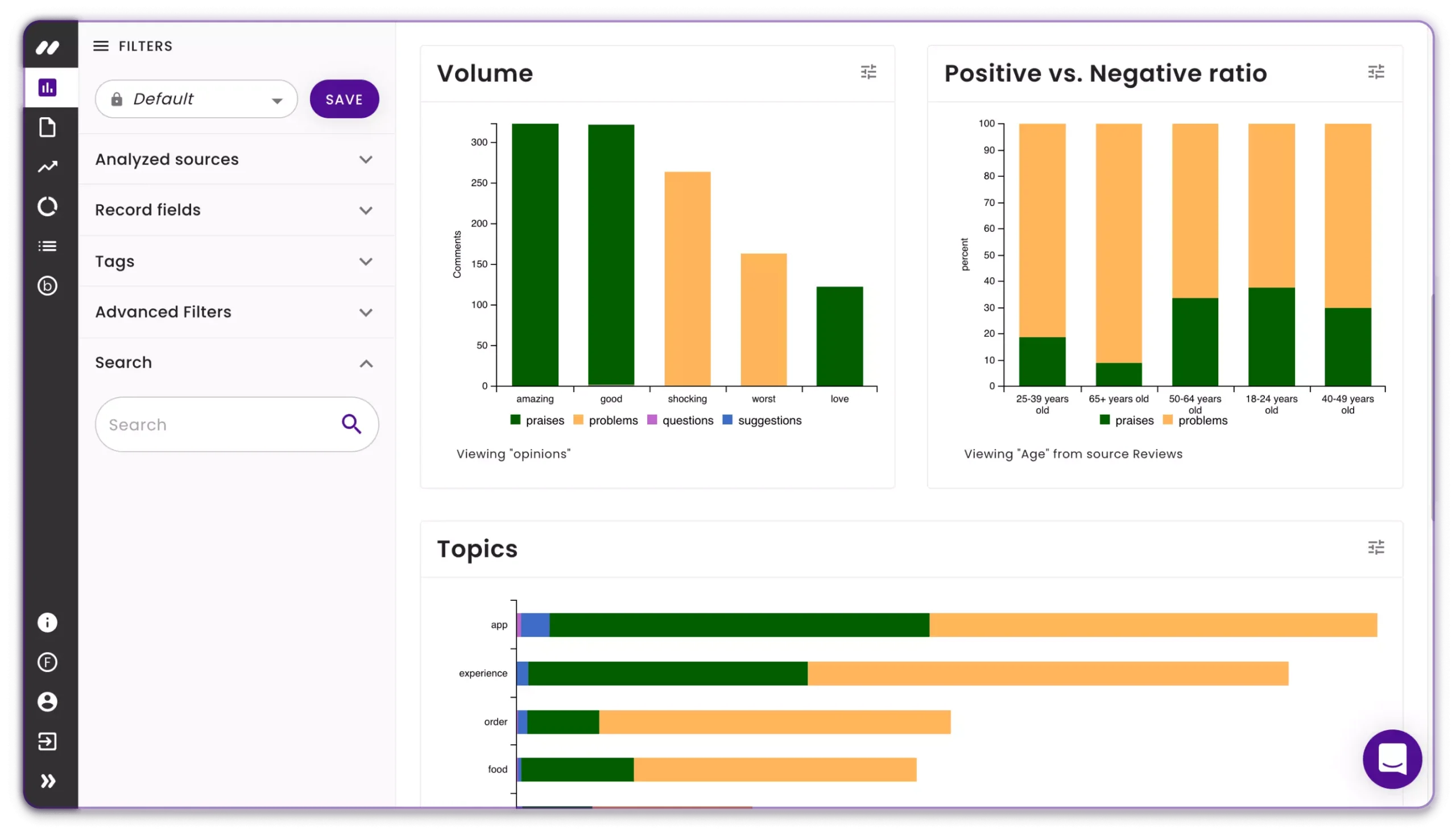 Keatext turns feelings into actionable data that can help improve customer experience. It allows you to quickly see what your guests love about your offering and to figure out what updates and policy changes can be made and which aspects of your business don't require immediate attention.
3. Healthcare: Understanding the patient experience
The healthcare industry is undergoing a major shift in current practices, and big data is top of mind for many organizations. Big data doesn't only help save on basic expenses and improve profits, it assists in predicting and preventing epidemics, curing diseases and improving quality of life. According to Dr. Amy Abernethy, Chief Medical Officer, Chief Scientific Officer, and SVP of Oncology at Flatiron Health, "Big data in context is going to be the most important data set [for patient care] in our future."
Thanks to advancements in technology, healthcare professionals can deepen their understanding of the patient experience. With this goal in mind, sentiment analysis can be used to analyze patient responses on satisfaction surveys. With text analytics tools like Keatext, patient comments are segmented and classified by topic, meaning and frequency, and identified as positive, negative or neutral. When analyzed, patient responses provide key insights that help hospitals identify what's working, what's not, and where the opportunities for improvement lie.
The level of satisfaction patients feel about the treatment they received while in the care of nurses and doctors is a very important aspect of the patient experience. A recent study led by David Costello, former Chief Analytics Officer at Press Ganey, found that only 20% of a particular hospital's patients responded in a survey that staff reacted quickly to their pain. This data revealed the need for better pain responsiveness to improve patient satisfaction in that hospital (the name was not revealed).
4. BFSI: Reducing churn and improving satisfaction
The financial industry is still plagued by high customer churn rates. Customers have an abundance of options and they choose when they want to bank and which financial services they wish to use. Competition is fierce and companies rely heavily on CX sentiment analysis tools to track customer sentiment in real time.
For example, the customer service departments at the multinational Spanish banking group BBVA are increasingly using text analysis techniques to improve their customer experience. On average, BBVA receives more than 80,000 unstructured client comments per month. As part of their ongoing efforts to understand their clients' needs, approximately one million comments were analyzed to identify frequent topics of discontent such as branch waiting times and the response time for questions. As a result, they were able to determine action areas with high-potential impact, and the Mexico office improved by 10 points in the customer satisfaction index.
There are many other real-life examples of how sentiment analysis tools have helped companies salvage their brand reputation and bounce back from bad business decisions. These examples illustrate the importance of tuning in to the customer conversation and, more importantly, recognizing how quickly customer comments can impact the viability of a business.