Between the established brands, upstarts, and the general shift to wellness, there's no shortage of competition in the skincare industry. However, achieving success requires more than just high-quality products—success today also means managing the customer experience through service desk ticket analysis.
This is something COOLA knows all too well with their mission to create products that empower their customers to be happy, confident, and healthy.
Discover how COOLA used Keatext's integration with Zendesk to analyze support tickets at scale and boost their customer satisfaction score by nearly 5 points during the busiest time of the year.
1. About COOLA
COOLA is the epitome of the California lifestyle. The company offers recognizable brands all across the suncare, skincare, and beauty segments with its strong presence in leading retailers like Ulta, Amazon, Sephora, and Nordstrom. Their mission is to create product-driven experiences that embody a happy, healthy lifestyle through their relentless commitment to using organic ingredients, sustainable farming practices, and the natural power of plant actives.
Quick Facts
Industry: Beauty & Cosmetics
Location: Carlsbad, California, United States
Employees: < 100
2. What COOLA Needed From a Ticket Analysis Solution
Customer service plays an important role in the shopping experience. The team at COOLA knew this, and felt they were responding too slowly to customer questions being asked throughout the buyer's journey. Real-time ticket data analysis in Zendesk was a big challenge for them – as it is for many brands.
"When customers are shopping in-store or on-site, they need information right now, not a week from now. If we can't offer a targeted experience that speaks to their needs, they will purchase something else. Helping our customers make real-time purchase decisions has increased COOLA.com conversion rates by as much as 40%," said Chris Gast, Vice President of Customer Experience at COOLA.
COOLA wanted to redesign every aspect of the customer experience, from self-help to the customer assisted experience. However, they needed an effective way to collect and organize customer feedback to support this initiative. For COOLA, this meant finding a solution that could turn large amounts of data in Zendesk into actionable insights that gave customers a seat at the table and empowered the decision-making process.
"Helping our customers make real-time purchase decisions has increased COOLA.com conversion rates by as much as 40%." – Chris Gast, VP Customer Experience
COOLA began searching for a support ticket analysis solution that could bring that customer's voice to the table—ensuring decisions were data-driven and based on customer expectations.
3. Why Keatext's Ticket Analysis Is the Right Fit for COOLA
COOLA chose to partner with Keatext and use our AI-powered text analytics to empower the customer feedback process. They also receive active support and training to ensure their implementation is custom-tailored to their specific use cases.
"Most CRM platforms don't allow you to analyze customer comments, keywords, and sentiment at scale. It's often a tedious, manual process where you assess tickets one at a time. With Keatext, I can assess subjects to view the complete story driving the customer experience," said Chris.
Keatext's AI-powered platform provided COOLA with powerful functionality, including:
Integration with Zendesk: Automatic connection to COOLA's customer support tickets in Zendesk, processed and analyzed in real time thanks to our cutting edge ticket analysis
Multichannel Analysis: One location to assess and organize user sentiment across the multiple channels where COOLA interacts with its customers
Opinion and Sentiment Analysis: Deep insights into customer opinions and sentiment and how it is affecting their overall brand reputation and experience
Advanced Data Filtering: Specialized filters that allow COOLA's team to customize how they drill down into their customer experience data
Data-Rich Analytics: Interactive graphs, charts, and other visual media that provide data-driven insights into customer behavior and experience trends
Trend Detection: Analyze trends in real-time across all channels to support the decision-making process
Automatic Grouping: Organize customer sentiment into strategic groups based on the objective at hand
Correlations: Determine patterns in user behavior across the business, sales channels, and customer support
Predictive Analysis of Tickets: Get powerful recommendations for the top 5 most impactful action items thanks to predictive analytics for CX
"Text analytics translates customer sentiment into the actual words they use, at scale. Gaining a clear understanding of the actual root cause of a problem is a game-changer."
4. How Ticket Analysis Translates to ROI for COOLA
With Keatext's Zendesk integration for support ticket analysis, COOLA now has the foundation needed to optimize and improve key customer experience touchpoints across all channels.
COOLA's initial deployment of Keatext saw their customer satisfaction score increase by 5 points during their busiest time of the year when wait times traditionally skyrocketed and customer sentiment plummeted. With deeper insights into the customer experience, they are better positioning their customer success, product, and marketing teams to deliver a unified customer experience across all touchpoints.
The company is now better able to include the voice of the customer in the decision-making process. Whether that's to detect defective products early, influence new marketing initiatives, or improve brand positioning, COOLA sees Keatext as an invaluable tool that allows them to bring the customer to the table.
"Text analytics translates customer sentiment into the actual words they use, at scale. Gaining a clear understanding of the actual root cause of a problem is a game-changer because you can address challenges across the entire customer journey—whether online or in-store," said Chris. "Staffing up in care to deliver real-time service is a great example. Now, we're delighting more customers than ever with awesome service and are helping power business growth."
COOLA's teams can track customer sentiment using hyper-focused filters, keywords, and other categories to pinpoint potential problems before they escalate. They can quickly switch between filtersets highlighting both the voice of the customer and the voice of the agent. This has given them full visibility into developing trends that may impact their business, products, and customers.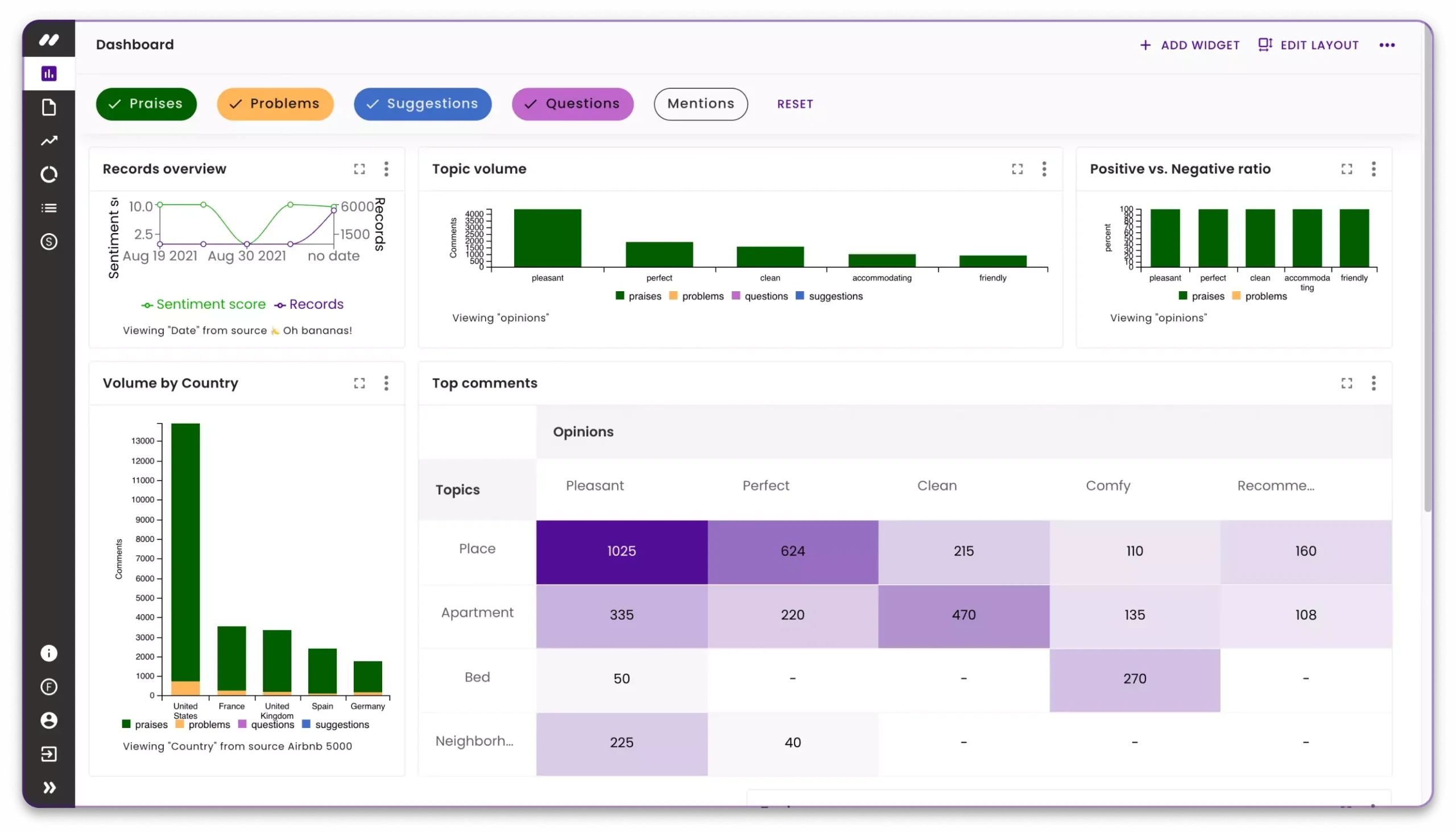 As COOLA learns how to unleash VoC to help solve cross-functional challenges, Keatext is emerging as a mission-critical tool for many departments within the company. Keatext has already driven an impact, however, from weekly reports to management, using customer sentiment to craft brand voice and product messaging, to providing product teams with insights into product issues.
COOLA is confident their partnership with Keatext will allow them to continue addressing customer sentiment at scale—providing them with a robust solution that's designed to manage, optimize, and improve every aspect of the modern customer experience.